How to pull Building Construction Permit data for Counties from the US Census Bureau
For a recent custom data request, I pulled building construction permit data for US counties and places (aka cities). Many people don't realize that the US Census Bureau collects data on building permits by county and place, and makes it publicly available.
Below are step by step instructions for how to pull this building construction permit data from the US Census Bureau's website. We'll use Orange County, Florida as an example — but the same  steps apply if you want to pull data for a city.
Step-by-Step Guide to Finding Building Permits by County
The building permits page of the US Census allows you to search for building permits either monthly or yearly, going back to 1996. Not all areas report to the Census Bureau monthly – some only report yearly.
If when you are searching for building permit data you cannot find the county or place you are searching for, go back and change your search to "Yearly." And there may be cases where building permit data are just NOT available for smaller counties (in terms of population) and smaller cities.
Now, here are the steps to follow:
Step 1: On the building permits page, choose the month and year you want building permit data for.
Step 2: Pick county or place. Place reports are usually from individual municipalities, but some townships or unincorporated towns also report to the Census Bureau.
Step 3: Pick the state you are interested in finding data from. For our example here, we'll be looking at Counties in Florida.
Step 4: Click "Submit"
Step 5: On the next page, pick the county you want data from. Let's pick Orange County. If the county we were looking for wasn't listed, that would mean some of the municipalities in the county only report yearly, so we'd have to go back to the prior page and change our time to annual.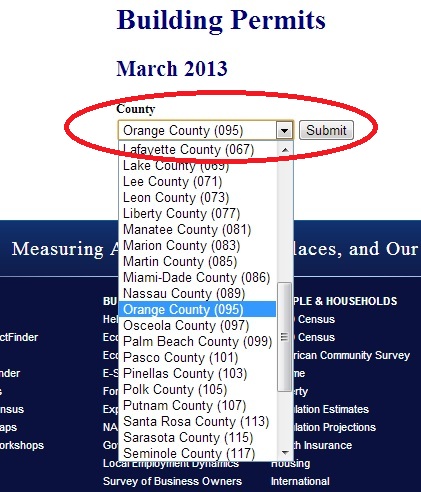 Once you click "Submit" on the second page, you will see the data building permits in Orange County for the month you selected. The information is broken down into permits for Single Family, Two Family, Three and Four Family, Five and More Family, and the total for all building types. In March of 2013, we can see that 353 Single Family building permits were reported, that there were 353 units in those buildings and that the construction cost was $76,359,451. We can also see the US Census Bureau's estimate of building permits including any that may not have been reported (353 for March, so the same number reported.) The chart also includes totals for the year so far.
In the very left column of the chart there is a "Browse" button. Clicking on this allows us to compare building permits by county throughout Florida. We can choose to compare building permits by county for a specific type of building, or the total building permits in each county. If we "Browse" Five and More Family buildings, we can see that while Orange county only reported 3 building permits for this building category in March, Miami-Dade reported 13 building permits for the county. Clicking on the "Profile" button for Orange County brings us back to the building permits by county page for Orange that we came from.
At the top of this page, you will see drop down boxes for month and year. If you want to compare building permits for Orange County for March in different years, you can pick 2012 from the drop down menu and see that Orange County reports only 267 building permits issued in March of 2012 – meaning nearly 100 more building permits were reported in 2013.
I hope the above steps and screenshots save you time when pulling building construction permit data for counties. If you need to pull lots of building permit data, like all monthly permit data since 1996, or if you need to pull building permit data AND other types of Census data (like year structure built, median value, median rent, etc.), you should check out Cubit's custom data pull option.